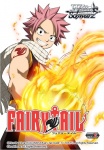 Bushiroad will release a new
Fairy Tail
expansion for its
Weiss Schwarz
TCG. The
Trial Deck
and
Booster Pack
will release on December 19th.
This set is based on the
Fairy Tail
adventure anime based on the popular manga series by Hiro Mashima, which is currently ranked at #8 on
ICv2
's manga properties list (see "
Top 25 Manga Properties--Spring 2014
"). The first anime series, produced by A-1 Pictures and Satelight, ran in Japan from 2009 to 2013, and included six OVAs and a feature film. A sequel series began airing on TV Tokyo in 2014. Both series are streaming on Crunchyroll (presumably subbed). Funimation has licensed the anime for an English-language release, and is streaming both subbed and dubbed episodes on its site and releasing a series of combo Blu-ray + DVD sets. Hulu Plus is also streaming both series.
The story follows Natsu Dragneel, a Dragon Slayer wizard who is a member of the boisterous and rowdy Fairy Tail wizards' guild. Natsu is searching for his foster parent, a dragon named Igneel, who disappeared seven years ago. With fellow guild members he travels the land taking on various missions and fighting the illegal "dark" guilds and demons created by an evil dark wizard.
The English edition
Trial Deck
is the new
ver. E
product type (which was introduced with the
Personal 4
set, see "
'Weiss Schwarz: Persona 4 ver. E'
"), which includes a mixture of cards exclusive to the English release. This product encompasses cards from both the Japanese edition
Fairy Tail
Trial
Deck and
Booster Pack
releases. The pre-constructed
Trial Deck
will include 50 cards (same content for each deck), as well as a deck manual, playbook, playmat and rule sheet. Random decks will also include special RRR foil or SP Gold Foil/Hot Stamp signed cards from the Japanese voice cast. The decks are packed six to a display, with eight displays per carton. The English edition does not include gold/silver campaign coupons.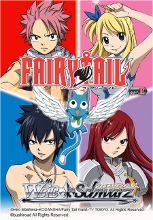 The
Booster Pack
will include new cards and new characters in the 100-card set, which includes 32 parallels. Like the
Trial Deck
, the
Booster
set contains cards from the Japanese edition
Booster Pack
and
Extra Booster
releases, as well as five English-exclusive cards. Each booster includes eight cards, with 20 boosters per display. Four rubber playmats are included in each carton. The English Edition does not include gold/silver campaign coupons. With this set, English and Japanese cards may be played together in tournament formats (except in Japan and certain major tournament formats).
Bushiroad recently announced that its 2014 World Championship event season, which will include
Weiss Schwarz
this year, will run from September to December (see "
Bushiroad World Championship 2014
").