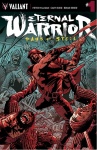 Valiant Entertainment has announced the new
Eternal Warrior: Days of Steel
miniseries, by Peter Milligan and Cary Nord, launching in November.
Milligan (
X-Force/X-Statix, Hellblazer
) will write, with interior art by Nord (
X-O Manowar, Conan
); and main covers on the first issue by Bryan Hitch and Rafa Sandoval, with two variants by Nord. The three-issue miniseries follows the 10,000-year-old Eternal Warrior, who is guided by the Geomancers. In his latest quest, the Geomancers task him with finding and saving a newborn child, whose fate may affect an entire people. When a thousand Magyar invaders descend in the questing hero--seeking the same child--will the protagonist be able to keep the child alive?