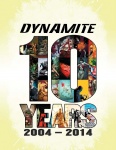 Dynamite Entertainment announced a new digital comic program with DRM-free comics, and during the first month of operation, it will donate ten percent of sales to the Comic Book Legal Defense Fund (CBLDF).
"The market has been growing for DRM-free content," said Dynamite CEO and Publisher Nick Barrucci. "Each and every day, fans want to choose how to buy and enjoy their comics, and we're taking our titles to the next level for digital sales. "Expanding into DRM-free content is simply giving the consumers the option for what they want and how they want it, and continues to reach out to a non-traditional comic-reading audience."
After this week's initial launch, Dynamite plans to release DRM-free comics on a weekly basis on Wednesdays, in a slow, focused roll-out of the company's library. As part of their 10th Anniversary, the company is offering 10 of its most successful titles at 10 cents each, to introduce new readers to the line.