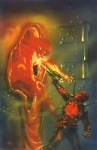 Marvel has announced that The Merc with a Mouth has decided to help it celebrate its 75th Anniversary by graciously appearing on 20 variant covers for various Marvel issues in October.
[Click any picture for larger view.]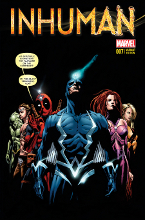 The Regeneratin' Degenerate is known for breaking the fourth wall, but he's also bringing his own brand of levity and rewriting history by appearing in some revisions of historic covers: including fighting the original Human Torch, helping form the New Avengers, and annoying the heck out of Black Bolt of the Inhumans.
The full list of covers:
All-New Ghost Rider #8
All-New X-Men #33
Amazing Spider-Man #7
Avengers #36
Black Widow #11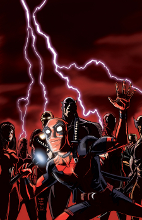 New Avengers #25
Bucky Barnes: The Winter Soldier #1
Captain America #25
Deadpool #36
Guardians 3000 #1
Hulk #7
Inhuman #7
Ms. Marvel #9
Nova #22
Uncanny X-Men #27
Secret Avengers #9
She-Hulk #9
Spider-Man 2099 #4
Uncanny Avengers #25
Rocket Raccoon #4