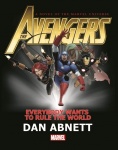 Marvel will release
Avengers: Everybody Wants to Rule the World
, a new prose novel by Dan Abnett, next April, the company announced. The novel is the second in a new line of prose fiction by Marvel;
Rocket Raccoon and Groot: Steal the Galaxy
, also by Abnett and released in July, was the first. It hit #73 on the comic store graphic novel chart in July (see "
Top 300 Graphic Novels--July 2014
").
In the story, the Avengers are spread out and battling for their lives, with Cap battling Hudra, Black Widow and Hawkeye fighting A.I.M., Iron Man fighting Ultron, and Bruce Banner and Nick Fury up against the High Evolutionary.
The novel release will be immediately before the premiere of
Avengers: Age of Ultron
on May 1st.