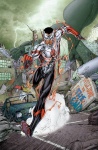 Greg Berlanti, the producer of the new CW series
The Flash
, has confirmed reports that Warner Bros. Television has a
Supergirl
series in development (see "
'Supergirl' TV Series in Development
"), and then Berlanti and fellow
Flash
producer Andrew Kreisberg, dropped another news nugget by telling a crowd at Paleyfest that there was indeed a chance that Wally West could appear on
The Flash
, saying "We made [the] Wests African-American so that we could head in that direction."
According to
Comic Book Movie
, Kreisberg added (correctly): "When DC reintroduced Wally (in the "New 52"), he was African American." It is true that prior to 2011, Wally West was an older Caucasian male, and the changes to Wally West's background clearly came from DC, according to writers Ven Jensen and Robert Venditti. In
Future's End's
Flash
tie-in there is a flash forward five years which finds the teenage Wally West as Kid Flash. Will
The Flash
TV series also find room in its future for a Wally West incarnation of The Flash?
Meanwhile, aside from confirming to
CBR
that reports that a
Supergirl
series was in development were correct, Berlanti noted that Warner Bros. TV has not shopped the series to a network yet, and declined to say anything further about the project.