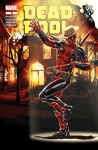 Twentieth Century Fox has announced that its
Deadpool
movie will be released on February 12, 2016, according to
The Hollywood Reporter
. The film has been in development for years, with Tim Miller attached to direct from a script by
Zombieland
writers Rhett Reese and Paul Wernick (see "
'Like the Worst Relationship I've Ever Had'
"), and Ryan Reynolds, who played the role of Wade Wilson in
X-Men Origins: Wolverine,
expected to star, although he has not yet been signed.
The studio was reportedly nervous about greenlighting an R-rated comic-based movie, but decided to move ahead after the reaction to some "leaked" test footage starring Reynolds that made its way to the web last summer. We're showing it here, and hoping the video doesn't disappear, although the fact that it's been out there since July would seem to indicate that Fox isn't trying too hard to get it off the web.
Fox made a number of other scheduling moves. It took the video game-based film
Assassin's Creed
off the 2015 schedule, which opened up August 7, 2015. The movie reportedly has too many problems to open by that date, and will now open sometime in 2016.
Fox then moved
Fantastic Four
back a couple of months from June 19th to August 7th. This is the second move for both
Assassin's Creed
and
Fantastic Four
; both films were moved back last November (see "
Geek Film Date Shifts
").