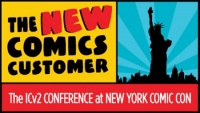 An ICv2 Release.
The comic convention scene is exploding, both in number of shows and attendance. Who are these hundreds of thousands of new attendees, and what does it mean for show organizers, for exhibitors, and for the audience for the products they sell?
The growth has been exponential, but that's come with a rapid change in the composition of attendees at some shows. There are a lot more "civilians," leading at least one con veteran to call going to a con "like going to the mall" for a lot of the people there (see "
Comic Conventions Are 'Like Going to the Mall'
"). Exhibitors are finding the dynamic new environment a difficult one to navigate at times, and that the new audiences require new strategies to be successful (see "
Winners and Losers in the New Convention Economy, by Rob Salkowitz
").
The current con explosion started in the mid-aughts, when San Diego Comic-Con started growing rapidly, and becoming more and more an entertainment show as opposed to focusing almost exclusively on comics. We mark the first sell-out as 2007 (see "
Interview with David Glanzer
"), and the show has now been rated as the #1 Entertainment Industry Event by
BizBash
, a leading event planning trade magazine and website, for the last two years. BizBash's rankings are based on "influence," and it's hard to argue the point when geek culture seems to be taking over television this year, just as it has marched across the movie business.
Around the same time as San Diego Comic-Con was blowing up, Reed Exhibitions was launching New York Comic Con (the first was in February of 2006, see "
Reed Plans Major New York Show
"), a show which has now grown to take over the entire Javits Center, and, like San Diego Comic-Con, now spawns numerous events throughout the city.
The attendance of those shows was roughly equal last year, around 130,000 unique attendees.
Reed also launched a major show in Chicago, the Chicago Comic & Entertainment Expo (C2E2) in 2010 (see "
Reed Announces Chicago Comic & Entertainment Expo
"), made a deal with PAX to run its Seattle show and launched an east coast (see "
PAX Coming to East Coast in 2010
") and soon a Texas version, and took over the operation of Star Wars Celebration (see "
Reed Gets 'Star Wars' Celebration
").
The non-profit organization that runs San Diego Comic-Con was also on the move, growing WonderCon, the Bay area show it acquired, and eventually moving it to Anaheim (see "
WonderCon Moving to Anaheim for 2012
").
But it was in smaller, regional shows where the next wave of growth came. Long-running shows like Emerald City Comicon in Seattle, Heroes Convention in Charlotte, Fan Expo in Toronto, and Megacon in Orlando have all been growing steadily, some rapidly, in recent years.
Wizard World, which got into the event business through the acquisition of Chicago Comicon back in the 90s, began acquiring additional regional shows (Mid-Ohio Con, for example, see "
Wizard Acquires Mid-Ohio Con
") and starting new shows. Competition with Reed turned ugly after Reed started C2E2 in Chicago, and Wizard announced a show in New York on the same weekend as New York Comic Con (see "
Fight! Wizard vs. Reed
").
But things calmed down, Wizard management changed, and the company went public through a reverse merger. It set about rapidly expanding its show roster, which now stands at 25 annual events.
New shows, seemingly out of nowhere, also sprang up in cities including Los Angeles (see "
Comikaze Diamond Deal Just the Latest
"), Salt Lake City, where attendance quickly hit 100,000, according to the organizers, and Denver, where fans were turned away in the show's second year (see "
6,000 Fans Turned Away from Denver Comic Convention
").
A different kind of more focused, primarily non-superhero audience is turning up at festivals such as TCAF, SPX, and APE, where direct connection between comic creators and fans is the rule, and as part of book events such as the Brooklyn Book Festival.
So there's now a full range of events, from smaller festivals to multi-city tours to new pop-up shows to longtime regionals to the mega-shows in New York and San Diego.
What's driving the growth, what kinds of people do the different strategies attract, and what does it mean for exhibitors and others who want to sell to these hundreds of thousands of new potential customers?
We'll try to find the answer at the ICv2 Conference at New York Comic Con in the panel on "The Con Explosion" with this great panel of show organizers and experts:
Christine Bohle, Sr. Category Marketing Manager, Eventbrite
Patrick Bradley, EVP Digital Media & Entertainment, Wizard World, Inc.
Shelton Drum, CEO, Heroes Convention
Lance Fensterman, Senior Vice President ReedPOP
Meg Lemke, Chair, Comics & Graphic Novel Committee at the Brooklyn Book Festival, and Contributing Editor at MUTHA Magazine
Rob Salkowitz, author, writer of Comic-Con and the Business of Pop Culture
Moderated by Heidi MacDonald, comic editor and commentator from The Beat.
The ICv2 Conference: The New Comics Customer will take place at the Jacob Javits Convention Center from 1 p.m. to 5 p.m. on Wednesday afternoon, October 8th.
Want to come? Register by
clicking here
.
For more information,
click here
.
And if you'd like to suggest questions or discussion topics for our panel (there'll be lots of press at the Conference, so you'll hear what people say even if you're not there), feel free to contact organizer Milton Griepp (
Mgriepp@icv2.com
), who will pass on your thoughts to panel moderator Heidi MacDonald.