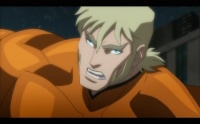 Warner Bros. has released a new trailer for the upcoming Aquaman original video animation movie,
Justice League: Throne of Atlantis
, which is part of the New 52-connected storyline that runs through most of the releases (see "
Warners Will Connect DC OVAs
"). The video is planned for Spring 2015 release.
The film will be based on the
Justice League:
Throne of Atlantis
story arc written by Geoff Johns, and serves as a sequel to the
Justice League: War
OVA (based on Geoff Johns and Jim Lee's
Justice League: Origin
storyline).
In the retconned OVA storyline that sees Shazam as a founding member of the Justice League, this film will finally tell the story of Arthur Curry, the future Aquaman, who lives on the surface world with powers he doesn't understand. The battle of Apokolips in
Justice League: War
caused fallout for the underwater realm of Atlantis, and Orm and Black Manta move against the surface world. It's up to Aquaman to team with the Justice League to save both realms.