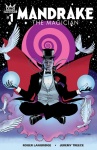 New York Comic Con News:
Today Dynamite Entertainment revealed the project that the company had been teasing (see "
Dynamite Teases New Event--All Hail
"), a celebration of the 100th anniversary of the King Features newspaper comic syndicate, which will begin in January with the launch of five miniseries featuring the top King Features characters,
Flash Gordon, Jungle Jim, Prince Valiant, The Phantom
, and
Mandrake the Magician
. The five miniseries of Dynamite
King Event
will build toward an epic crossover that will unite the disparate characters in a collective adventure in May.
To unite the series visually Dynamite has commissioned artist Darwyn Cooke to create a series of five interlocking covers for the #1 issues of the five miniseries. Cooke's retro-chic style, which is seen to great effect in his
New Frontier
for DC and his
Parker
novel adaptations for IDW Publishing, would appear to be the perfect choice to create the cover ambience for this group of Golden Age newspaper comic strip adventure heroes from the 1930s and 40s.
But Dynamite is also creating two variant covers for each of the #1 issues. One of the variants will be drawn by veteran Marvel and Image artist Rob Liefeld (
Youngblood, X-Force, Deadpool
), while the other will be created by rising star Ron Salas (
Dream Thief: Escape
).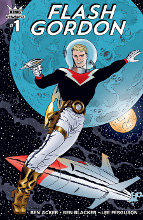 The
Flash Gordon
miniseries, which will be written by Ben Acker and Ben Blacker, with art by Lee Ferguson, finds the outer space hero dealing with a cosmic heist in a saga that includes all the main characters from Alex Raymond's classic galactic saga including Dale Arden, Dr. Zarkov, and of course, Ming the Merciless.
Veteran comic book writer Roger Langridge is scripting the new
Mandrake the Magician
comic with Jeremy Treece providing the art. Since the
Mandrake
newspaper strip ended last year (and is now in reruns), this Dynamite comic will be the place to find new adventures of Lee Falk's hypnotic hero.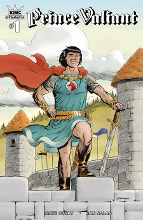 Nate Cosby (
Cow Boy
) is writing Dynamite's
Prince Valiant
miniseries with Ron Salas attempting to fill "the big shoes" of
Prince Valiant's
creator, the incomparable Hal Foster and the roster of excellent artists who followed in Foster's very big footprints.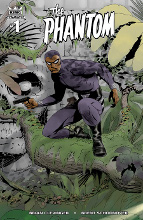 Dynamite's
The Phantom
#1 will mark the first time that Lothar, the longtime ally of
Mandrake the Magician
, assumes the mantle of
The Ghost Who Walks
. Writing Brian Clevenger will handle the new narrative featuring Lothar as
The Phantom
, while Brent Schoonover will provide the art for this latest incarnation of Lee Falk's jungle hero.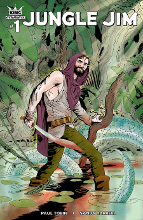 Speaking of jungles, writer Paul Tobin (
Bandette
) and artist Sandy Jerrell (
Meteor Men
) take Alex Raymond's
Jungle Jim
from the jungles of Southeast Asia to the impenetrable forests of the planet Arboria, where he has to take on Ming the Merciless.