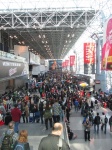 ReedPOP sold tickets for New York Comic Con to 151,000 unique individuals, according to Senior Vice President Lance Fensterman, passing San Diego Comic-Con's 130,000 attendees. San Diego has been maxed out at that level for several years; New York passed 130,000 last year (see "
NYCC as Big as San Diego Comic-Con
").
New York Comic Con is now the largest geek culture convention in North America.
NYCC made Thursday a full day this year, rather than the partial day a year ago, which allowed ReedPOP to sell another day's worth of tickets, according to Fensterman. There was heavy floor traffic on Thursday, with robust sales.
The 151,000 announced attendance did not include Super Week events, which were held around the city over a 10 day period at events other than the Javits Center.