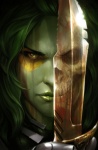 New York Comic Con News:
Nicole Perlman, who co-wrote the
Guardians of the Galaxy
movie with director James Gunn, will write an ongoing
Gamora
comic book series for Marvel, giving the Marvel lineup another strong female hero. The
Gamora
comic, which is slated to launch in the spring of 2015, will give Marvel four
GOTG
titles including the flagship
GOTG
book, three solo series Skottie Young's
Rocket Raccoon
, Sam Humphries and Paco Medina's
The Legendary Star Lord
, and
Gamora
(about which nothing has been disclosed at this time except the author).
Perlman has no known history as a comic book writer, but she worked for Marvel Studios from 2009-2011, and various sources indicate that she was the one who first saw the potential in
Guardians.
Her treatment impressed Marvel Studios enough that they commissioned a full screenplay which she wrote and Gunn later modified. Perlman didn't work directly with Gunn--it was more a case that he made enough changes to her script that they both received writing credits for the final film.
Jim Starlin created
Gamora
way back in 1975 in
Strange Tales
#180, where she first appeared as one of Thanos' minions (after all she was his step-daughter), though she later turned against him, joining with the Avengers to take on the Mad Titan.