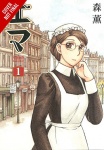 New York Comic Con News:
Hachette Book Group's Yen Press imprint announced nine new manga licenses, including titles by well-known creators Kaoru Mori, Svetlana Chmakova, Kaori Yuki and more.
Kaoru Mori is known for
A Bride's Story
and
Kaoru Mori: Anything and Something,
both published in the U.S. by Yen Press. Now Yen will publish the Victorian Romance
Emma,
which was previously published in the U.S. by CMX (see "
Right Stuf Readies 'Emma' Anime
").
Svetlana Chmakova is known for
Nightschool
and
Dramacon
, as well as for illustrating the manga adaptation of James Patterson's
Witch & Wizard
(see "
Yen Adapting James Patterson's 'Witch & Wizard'
"). Now Yen will release
Awkward.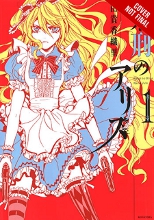 Kaori Yuki is known for her gothic manga style in
Earl Cain, Godchild
and
Angel Sanctuary
. Yen will publish
Alice in Murderland
.
Yen previously announced the translated editions of the light novel series
Is it Wrong to Try to Pick Up Girls in a Dungeon?
and A
Certain Magical Index
(see "
Yen Press Announces New 'Light Novel' Imprint
"), which will launch in Q4, and now it has acquired the rights to publish the manga series as well
. Is It Wrong to Try to Pick Up Girls in a Dungeon?
is by Kunieda, with original story by Fujino Omori and character design by Suzuhito Yasuda.
A Certain Magical Index
is by Chuya Kogino; the original story is by Kazuma Kamachi and character design is by Kiyotaka Haimura.
Other titles announced include the shonen fantasy romantic comedy
Trinity Seven,
by Kenji Saitou and Akinari Nao;
Chaika, The Coffin Princess,
by Shinta Sakayama, original story by Ichirou Sakaki, character design by Namaniku ATK;
First Love Monster
by Akira Hiyoshimaru; and the seinen manga
Prison School
by Akira Hiramoto.