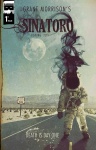 Black Mask Studios (see "
Black Mask Announces First Titles
") has announced a new slate of projects for 2015 from Grant Morrison, Steve Niles and more.
Grant Morrison and Vanesa Del Ray (
Hit, The Empty Man
) will partner on
Sinatoro,
a mash-up of the
Tibetan Book of the Dead
with the Great American Road Movie.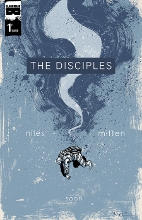 Steve Niles and Christopher Mitten, who worked together on
30 Days of Night
and
Criminal Macabre
, collaborate again on the ghost story in space
The Disciples.
Black Mask also teased future announcements of new plans related to
Five Ghosts,
the comic series by Frank J. Barbiere and Chris Monneyham that was recently optioned by the Syfy channel to turn into a TV series (see "
Syfy Nabs Rights to 'Five Ghosts'
").
Spade Riders
is a psychedelic space opera written by Fabian Rangel Jr. (
Extinct, Doc Unknown
), with art by Alexis Ziritt (cover art for
Loki: Ragnarock and Roll
). The story is a mix of B-movies, metal and space pirates.
Our Work Fills the Pews
is written by Vita A. and Matthew Rosenberg (
12 Reasons to Die
)
,
with art by Yasmin Liang (
Steed and Mrs. Peel, Liberator
). The story is set in a dystopian future that sees fundamentalist groups in charge of an America that puts subversives (homosexuals, Muslims, Jews, the poor, the mentally ill) in internment camps. Marcus, a gay, black bounty hunter, remains free as long as he hunts camp escapees, but he has a sudden crisis of conscience when he meets an 8-yr-old girl.
Matthew Roenberg will also partner with Patrick Kindlon on
We Can Never Go Home
, with art by Josh Hood. The story follows two socially mismatched super-powered teens who end up on the run from cops, killers, drug dealers and gangs .
X-ed
is a sci-fi thriller exploring next generation psychiatry, where "subliminal hitmen" are injected into a patent's mind to literally hunt down and kill their psychological demons. The series is written by Tony Patrick, with art by Ayhan Hayrula.
Young Terrorists
is a kinetic political thriller that follows the daughter of an assassinated global kingpin, who breaks out of an internment camp and leads a battle against the shadow governments, megabanks and military juntas that imprisoned her. The story is written by Matt Pizzolo, with art by Amancay Nahuelpan.
Last Song
, written by Holly Interlandi, with art by Zoe Chevati, is the story of the rise and fall of a band called Ecstacy, who changed rock and roll, and people's lives, for better or worse.
MAYDAY
will be written by Curt Pires (
Theremin
), with art by Chris Peterson. The story follows a washed up, drug addicted screenwriter and a transgender bartender as they stumble on a Satanic cult's plan to sacrifice LA residents and bring on Armageddon.
Transference
is written by Michael Moreci and illustrated by Ron Salas. The story follows a team of special agents who use time travel technology to transfer their consciousness back in time to other people's bodies to fix the present. But when the team leader's life is altered by someone outside the team, they must ferret out who else has access to the tech they use.