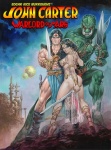 Edgar Rice Burroughs, Inc. announced this week that the John Carter of Mars movie, television and merchandise rights formerly held by Walt Disney Pictures have reverted back to the author's estate, which is now seeking a new studio to continue the franchise.
"We will be seeking a new partner to help develop new adventures on film as chronicled in the eleven Mars novels Burroughs wrote," said James Sullos, President of ERB, Inc. He then referenced the Warner Bros.
Tarzan
deal (see "
Warners Sets 'Tarzan' Date
") and added, "(W)e hope to have John Carter of Mars become another major franchise to entertain world-wide audiences of all ages."
Disney's $250 million
John Carter
in 2012 was a huge flop domestically, despite being a faithful adaptation (see "
DVD Round-Up: 'John Carter,' 'G.I. Joe,' & 'Yellow Submarine'
"), making it no surprise that they let the rights lapse.
The Hollywood Reporter
inquired whether
John Carter
star Taylor Kitsch would continue the role in future projects, Sullos said he couldn't comment specifically before discussions with potential studios. "We have no preconceived notion at this time of how this adventure will be further advanced."
On the John Carter comic front, Dynamite Entertainment reached an agreement with ERB, Inc regarding the John Carter comic line earlier this year, and will be launching a new
John Carter: Warlord of Mars
series in November (see "
Dynamite Launching New 'John Carter: Warlord of Mars' Series
).