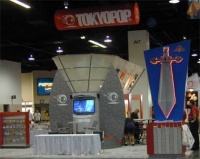 Tokyopop announced seven new manga series for 2004 at Anime Expo this weekend, including Fruits Basket and new series by the creators of Love Hina and Saint Seiya.
Fruits Basket is a romantic drama/comedy by Natsuki Takaya which originally appeared in Hana to Yume magazine in Japan. The anime is being released in the U.S. by FUNimation (see 'FUNimation Gets Fruits Basket'). The story is of an orphaned high school freshman girl who is rescued from homelessness by a family that's possessed by spirits of the Chinese zodiac.
A.I. Love You is a teen romantic comedy by Ken Akamatsu, the creator of the red hot Love Hina manga. A socially unsuccessful teenage computer genius creates an artificial intelligence program that comes to life and becomes the only 'girl' that will talk to him. A.I. Love You will have plenty of the fan service that is one reason for Love Hina's success. This title is going to be cross-promoted with all Love Hina releases later this year, ensuring that the fans of the best-selling series will know about this new creation by Akamatsu.
B'tX is a fantasy action series by Masami Kurumada, the creator of Saint Seiya, in which artifical intelligence also plays a prominent role. The story follows the quest of a man searching for his brother who's been abducted by the Machine Empire. The search leads him to join forces with X, one of several highly advanced, artificial intelligence machines (B'ts).
Psychic Academy is a science fiction/fantasy title by Escaflowne creator Katsu Aki. A psychic becomes a teacher in an academy for gifted psychokinetic youngsters and ends up teaching his brother.
Pitaten is a romantic comedy by Koge Donbo, the creator of Digi Charat. This title sounds vaguely like a younger Love Hina, in which an elementary school student fails his entrance exams for middle school. His life is complicated by a new neighbor who claims she is an angel and is there to protect him, but who won't leave him alone.
Get Backers is an action title written by Yuki Aoki and illustrated by Rando Ayamine. The name refers to a superhero team that focuses on retrieving things that have been taken. The powers of the two main characters are the ability to generate electrical currents and the ability to create illusions in the minds of opponents.
Mahoromatic: Automatic Maiden is a romantic comedy written by Bunjuro Nukayama and illustrated by Bow Ditama. It's the story of a former female battle android with a limited time to live who decides to work as a maid for a boy until he falls hopelessly in love with her. The manga spawned a hit anime from Gainax, creators of Evangelion.