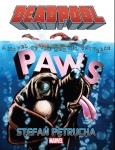 Marvel Comics has announced the August, 2015 debut of
Deadpool: Paws
, the Merc with a Mouth's first prose adventure. Written by Stefan Petrucha,
Deadpool: Paws
is an all-new original saga starring on the hottest heroes in the Marvel galaxy. Expect plenty of wisecracking action in this disturbing tale of mutated canines and the loudmouthed mercenary who loves them.
Fans of the
Deadpool
comics know that Wade Wilson will dispatch any number of deserving villains with great glee, but when something is turning the city's dogs into bloodthirsty killing machines and Deadpool is given the task of putting down the canine outbreak, it suddenly becomes apparent that Merc with a Mouth has a soft spot for doggies that is as big as Texas. Such is the intense character dilemma that is at the heart of
Deadpool: Paws.
Interestingly, unlike the previous two prose novels that Marvel has announced for 2015, an Avengers saga (see "
'Avengers' Prose Novel
"), and an Ant-Man novel (see "
Marvel Unveils 'Ant-Man' Prose Novel
"), both of which are set to debut within weeks of Marvel Studios' movies featuring the
Avengers
and
Ant-Man
,
Deadpool: Paws
will street about six months before Fox's
Deadpool
movie, which is currently slated for release on February 12, 2016.