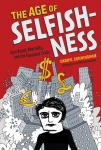 ICv2 recently sat down with Charles Kochman, Executive Editor of Abrams ComicArts, to talk about the company's plans. In Part 2 of our three-part interview, we discuss upcoming releases for Spring 2015, including a graphic novel on Ayn Rand's effect on the world; in Part 3, we talk about the company's Fall 2015 list, including a new book focusing on Charles Schulz as an artist, a follow-up to Derf Backderf's My Friend Dahmer, a Topps Star Wars trading card guide, and more; in Part 1, we talked about the recent release of The Art of Simon and Kirby Studio (see "Review: 'The Art of the Simon and Kirby Studio' HC").
What are you excited about for next year?
Coming up in spring we have a graphic novel by Darryl Cunningham, who did
How to Fake a Moon Landing
, called
The Age of Selfishness
. It's a look at Ayn Rand and her writings and how her writings affected policies that a lot of the politicians have put in place.
I think the book is even-handed but makes a clear case that all roads lead back to her. One of her disciples is Alan Greenspan, former head of the Federal Reserve. If you or I make a mistake, there's not much that's going to happen. If the head of the Federal Reserve makes a mistake and says we messed up, we guessed wrong, that's catastrophic.
That's coming out in March. Cover price is $17.95. Hardcover, no jacket.
I think it's the right book for the climate that happening and the discussion leading up to the elections. A lot of it comes down to what Mitt Romney refers to as the 47% of this country. This is that 47% who doesn't feel that they have representation in Congress. (Cunningham) does a bio of her, then there's a bio of Alan Greenspan and he ties it all together really nice and neatly.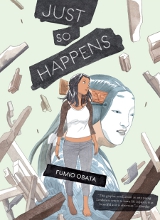 Separately, Abrams ComicArts provided info on two other Spring 2015 releases.
Just So Happens
, By Fumio Obata, will be released on March 17, 2015 at $24.95 MSRP. It's the story of a Japanese woman living in London who's called back for her father's funeral and is immersed in Japanese culture there.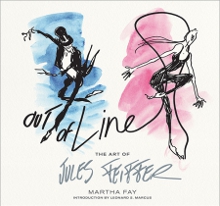 Out of Line: The Art of Jules Feiffer
by Martha Fay, introduction by Leonard S. Marcus, foreword by the late Mike Nichols, was previously announced (see "
Feiffer, Carter Family, Economix, and Dave McKean
"), and will come out on May 5, 2015 at $40.00 MSRP.
Click here
for Part 3.