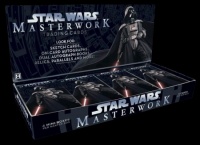 Topps will release five products tied to the
Star Wars
franchise in just the first eight months of 2015, including two products pushed back from late 2014 release, new "Illustrated" and "Chrome Perspective" products, and a limited web-only release.
First up is
Star Wars Masterwork
, originally scheduled for release this month, but now planned for February 11th as a hobby-only release. The format is a high-end set that includes cards on wood and metal, autograph cards, sketch cards, relic cards, and framed printing plates. Each master box guarantees one on-card autograph and one premium 72-point heavyweight stock premium sketch card. Each case guarantees one silver framed on-card autograph, seven on-card autographs (except when replaced by a sticker auto as part of an ultra-rare autograph parallel), eight premium 72-point heavyweight stock premium sketch cards, and three relic cards.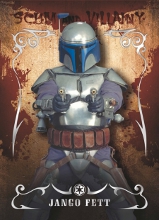 The set includes 105 cards in all, with 75 base cards, ten Defining Moments inserts, ten Companions inserts, and ten Scum & Villainy insert cards. There are two types of parallel cards: Metallic base parallel cards in numbered editions of 299 (Blue Metallic Base), 99 (Silver Metallic Base), 50 (Green Metallic Base) and one (Gold Metallic Base); and Insert Parallels, also in varying edition sizes, including Rainbow Foil Inserts (299), Canvas Inserts (99), Wood Inserts (50), Clear Acetate (25), Metal Inserts (10), and Golden Metal Insert (1/1).
A variety of sketch cards are included beyond the first-ever Star Wars sketch cards on 72-pt. premium heavyweight stock: Sketch Card Variants (alternate logo cards hand-numbered to 10), Wood Sketch Card (foil stamped and hand-numbered to 5), Sketch Card Book (a 1/1 310-pt. 2-panel sketch book), and a sketch card puzzle (50 mini-boxes have 4 sketch cards that combine into a 1/1 ultra rare puzzle).
Autograph cards include foil autograph parallels (numbered up to 25), canvas autograph parallels (numbered up to 10), 1/1 wood autograph parallel, five autograph books each numbered to five, and silver framed autographs numbered up to 29 in a silver metal frame.
Relic cards include signature pens, weapon lineage medallions, set materials from the movies, and star wars postage stamp relics, which feature the art of Drew Struzan.
The product will be sold in two SKUs above pack size, each with up-market pricing: Mini Box (containing two base cards, one parallel card, one inset or insert parallel, and one "hit" card) at $50 MSRP; and the Master Box, of four Mini Boxes, at $200 MSRP.
Star Wars Rebels Trading Cards
, originally planned for October release, will now street on February 25 as a retail only (no hobby) product. Tied to the Disney XD TV show (see "
'Star Wars Rebels' Renewed
"), the cards will be available in two SKUs: the Gravity Feed pack, with six cards, at $1.99 MSRP; and the Jumbo Pack, with 18 cards, at $4.99 MSRP.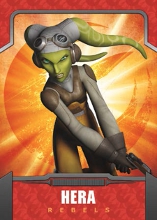 The base set includes 100 character, vehicle, and scene cards. There are also Rainbow Foil parallel cards, 20 different stickers (one per pack), and 10 tattoos (1:8). Approximately 500 sketch cards will be randomly inserted.
Star Wars Rebels
was the #2 show on Disney XD, behind
Gravity Falls
, but was a very successful launch for a new show and has broad appeal to
Star Wars
fans.
Topps will launch two
Star Wars
products in the second quarter of 2015.
Star Wars: Empire Strikes Back Illustrated
will be in the same format as Topps'
Star Wars: A New Hope Illustrated
product. The product is based on the radio serial, not the movie. It will be a hobby product, launch April 29th, and packs will retail for $3.99.
Topps will offer
3D Widevision Star Wars: Revenge of the Sith
cards as a web exclusive beginning June 10th. The very limited run (of perhaps 2000 boxes) will feature 3D lenticular cards in the Widevision size, at around $100 per box in a numbered edition (run size and price are not finalized). It will be sold only through the Topps website.
On August 5th, Topps will release
Star Wars Chrome Perspectives Part 2,
following up the quick sell-out of
Part 1
this year.
Part 1
split the set into the view from the Alliance and Empire sides; Part 2 will split the set between the Jedi and Sith perspectives.
Topps declined to discuss the releases for the Fall season, which presumably will include products tied to the release of
Star Wars: The Force Awakens,
and would not comment on the release of the card-style images for the upcoming film that mimic the original Topps
Star Wars
sets for the first film (see "
'Star Wars' Character Names Revealed
").