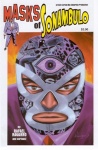 ICv2 has learned that Sergio Arguero, the producer of the hit Mexican film
Y Tu Mama Tambien
, is in the process of developing a movie based on Rafael Navarro's
Masks of Sonambulo
comic book published by Ninth Circle Studios
. Masks of Sonambulo
chronicles the exploits of Salomon Lopez, a celebrated lucha wrestler, who is beaten and left for dead by mobsters.
When he awakens after a decades-long slumber he finds that he can read people's dreams and yet cannot sleep himself.
He retires from the ring, but he doesn't retire his wrestling mask as he embarks on a career as a private detective.
Navarro's use of film noir lighting effects, hardboiled private eye action, and surrealistic dream sequences, leavened with a healthy dose of fantastic things that go bump in the night, has made Masks of Sonambulo a cult hit as a black-and-white comic. The property has the potential to make an excellent film, especially in the hands of the team that made Y Tu Mama Tambien an international hit.