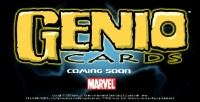 Genio Cards, LLC has entered into a licensing agreement with Marvel Enterprises that will provide Genio with the worldwide rights to use Marvel characters in its new
Genio Educational Card Collection
, targeted at kids 5-12.
The
Genio Card
series includes a collection of 360 illustrated cards featuring Marvel Superheroes and depicting 30 subject areas including Dinosaurs, the Origins of the Universe, Extreme Sports, Martial Arts, Concept Cars, and Space Travel.
Kids who collect the
Genio Cards
learn cool facts about the subject categories, and can test their knowledge with the
Genio Power Challenge Game
in which players match wits using their newly discovered Genio facts.
The Marvel Superheroes function as guides to pique the interest of the game's young target audience.
FAO Schwartz is sponsoring the launch of the Genio Cards at its flagship store on Tuesday August 19, 2003, and the cards will be heavily promoted throughout FAO's other stores as well as its Zany Brainy chain.

The entire first series includes 360 illustrated cards as well as a 64-page Official Genio Card Collector Album.

The cards will be available in a number of formats including a Genio Cards Starter Kit (the album plus a pack of 9 cards and sleeves, srp $9.95), MegaDecks (36 cards, srp $9.95), and Blister Packs (9 cards, srp $2.95).

The Genio Cards will be available through major retailers nationwide including Wal-mart.

Genio Cards, LLC is a division of National Management Consulting, Inc., a diversified marketing and distribution company.