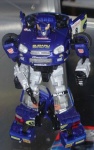 WizardWorld Chicago may not have been the full media circus that ComiCon was, but in addition to a strong showing by comic publishers, there were plenty of toy companies in attendance.
Palisades showed off its new
Witchblade
animated figures, while Mattel displayed its
Batman
designs and CrossGen unveiled the initial efforts of its in-house toy division. But one of the coolest figures on display in Chicago that wasn't in San Diego was Hasbro's new
Transformers Alternator Figure
.
The super detailed robot figure of
Smokescree
n transforms magically into the Subaru Impreza WRC. This figure was a huge hit with fans at the recently concluded
Transformers
convention, and the 1/24 scale figure should be a big hit with collectors at an srp just below $20.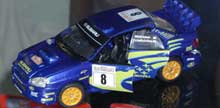 The Smokescreen Alternator is the first in a series of six figures based on 'hot' contemporary cars.

The Smokescreen could be out as soon as December 2003, while the other five figures will follow in 2004.

Next in line is a Sideswipe figure based on a red Dodge Viper -- guaranteed to blow your doors off.

These fully transformable robot/cars are just too cool -- look for Hasbro to develop a cartoon series based on the Alternators within the next two years.