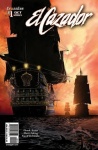 El Cazador #1, CrossGen Entertainment's 'fastest selling issue ever,' is currently sold out from Diamond. The issue has been sent back to press, and will return to stores October 8th, the same day as El Cazador #2. The second print run will feature a new cover.
CrossGen VP of Sales Christopher Orr said that El Cazador #1 was overprinted, but still sold out quickly. 'That's in addition to the 25% extra copies most retailers received free of charge for hitting the their incentive level,' said Oarr.
With the rapid sellout of El Cazador #1 and the Disney hit Pirates of the Caribbean still bringing in cash from the box office after two months, it looks like the long ignored swashbuckler genre is back in business (see 'Pirates Finds Gold').