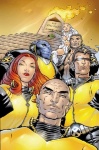 All of Marvel's X-books except Ultimate took substantial jumps in sales between April and May, reflecting new creative teams on three titles and Marvel's 'X-Men Month' promotion. New X-Men #114 (nee X-Men) went up over 40,000 copies, topping 135,000 -- the largest number we've seen since we started calculating these numbers in March (see 'Ultimate X-Men Tops 100,000' for last month's numbers). This represents an increase in sales of over 40% versus the previous issue. Grant Morrison and Frank Quitely are the new creative team on that book. Uncanny X-men (now by Joe Casey and Ian Churchill) jumped around 30,000 copies to over 127,000. The codeless issue of X-Force by Peter Milligan and Mike Allred also jumped around 35%. It will be interesting to see what sell-through is like on this book, since the lack of code approval was probably not known by most retailers at the time of ordering. Green Arrow #4 took a nice 24% jump, reflecting the fact that retailers now have had a chance to adjust their initial orders after seeing the sales on #1. Other numbers are a mixed bag, with about as many down as up. We took a look at total dollars for the first time, and the sell-in dollars were up a hair (less than 1%) between April and May shipping. Here are the top 25 comic titles with their estimated North American comic store orders for May.
135,394 New X-Men #114
127,211 Uncanny X-Men #394
126,405 X-Treme X-Men #1
99,990 Ultimate X-Men #6
79,756 Green Arrow #4
79,201 Ultimate Spider-Man #9
69,390 JLA #54
68,937 Amazing Spider-Man #31
67,936 Wolverine #164
67,494 Brotherhood #1
63,326 Avengers #42
61,852 Ultimate Marvel Team-up #4
58,866 Daredevil #18 (Res)
52,267 Spawn #110
50,311 Fantastic Four #43
49,051 X-Force #116
48,877 Peter Parker #31
48,772 Rising Stars #16
43,753 Tangled Web the Thousand #2
42,509 Universe X #10
41,302 Superman #170
40,755 JLA Incarantions #1
40,662 Thor #37
40,508 Batman #591
38,669 JSA #24
For the complete list of estimated quantities for comics ordered for May, see 'Top 300 Comics -- May.'
Here are the best-sellers from the first ten publishers to appear on the list:
135,394 New X-Men #114 (Marvel)
79,756 Green Arrow #4 (DC)
53,107 Spawn #110 (Image)
30,964 Just a Pilgrim #3 (Black Bull)
26,760 Star Wars Infinities #1 (Dark Horse)
18,723 Crux #2 (Crossgen)
17,864 Rock #1 (Chaos)
15,928 Bone #43 (Cartoon)
14,141 Simpson's Comics #58 (Bongo)
13,842 Sailor Moon #31 (Tokyo Pop)
The only change here versus April is that Harris dropped off and Cartoon popped back on with its bi-monthly Bone.
Over-all some positive signs at the top of the list this month. Let's hope that sales continue to be strong as we enter the key summer selling season for comics.
Our analysis was based on a combination of the information Diamond releases in Diamond Dialogue and actual order numbers provided to ICv2 from publisher sources. By plugging in the circulation numbers we know and using the Diamond order index, all of the circulation numbers for comics ordered through Diamond can be interpolated.
There are some limitations to this type of analysis:
Marvel, DC, Dark Horse and Image distribute 100% of their comic store orders through Diamond. Some other publishers distribute directly to stores or through other distributors and as a result this analysis may underestimate their sales.
Marvel, DC, Dark Horse, and Image distribute some of their titles through channels other than comic specialty stores, e.g., newsstands and bookstores. These quantity estimates do not reflect distribution through those channels.
The quantities above do not include advance reorders, late orders, or reorders.
Most of the titles on this chart are also distributed to Europe by Diamond UK, which can account for significant sales for the publisher, ranging from 3-20% of the US numbers. Sales by Diamond UK are not included in the numbers above.
Even given the above, however, it is probably safe to say that these quantities reflect 80% or more of the total North American sales on most periodical comics.