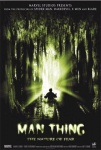 Artisan Entertainment has announced that the studio's movie based on Marvel's Man-Thing comic book series will get a theatrical release on August 27, 2004. Directed by Brett Leonard (Lawnmower Man, Virtuosity, T-Rex, Back to the Cretaceous) the Man-Thing movie just wrapped its shooting schedule. The modestly cast film stars Jack Thompson (Breaker Morant), Rawiri Paratene (Whale Rider), Matt Le Nevez (Garage Days), Rachel Taylor, and Steve Bastoni. Produced for under $30 million, the film was shot in and around Sydney, Australia, where an elaborate swamp set was created on a sound stage at Homebush Bay.
Originally many industry observers believed that Man-Thing would proceed directly to video (see 'Another Marvel Movie'), but Artisan's current plans are to give Man-Thing a fairly wide late summer theatrical release starting on August 27, 2004. If all goes according to plan, Man-Thing will be the fourth Marvel-based theatrical release of 2004. The current schedule of Marvel openings looks like this:
The Punisher April 16
Spider-Man 2 July 2
Blade: Trinity (III) August 13
Man-Thing August 27
Marvel is obviously hoping that Man-Thing, which is based on a 1970s Marvel comic story ('Cry of the Native' from Fear #16, published in 1973) will be able to replicate the success of the modestly-budgeted Blade films, which earned $70 million (Blade) and $81.6 million (Blade II) during their theatrical releases.