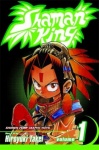 Upper Deck Entertainment has announced a wide range of new products for 2004 including Shaman King and Bratz CCGs and Spider-Man 2 trading cards.
Upper Deck announced two major new CCG releases today, including
Shonen Jump's Shaman King CCG
.
Shaman King appears to be a strong property.
The
Shaman King
anime series is running on the Saturday morning Fox Box (see '
Fox Box Releases Fall Schedule
') and Viz has had solid success with the
Shaman King
graphic novels.
Upper Deck's
Shaman King CCG
will debut this summer in a very competitive market with a number of other new anime/manga-based CCGs, but the property's visibility on TV and in
Shonen Jump
give it a chance.
Bratz CCG
Upper Deck's other newly announced CCG, if successful, could expand the audience for collectible card games enormously, because the Bratz Fashion Party Fever CCG is obviously targeted at girls from 8-12, not exactly your typical CCG crowd. Since its debut in the fall of 2001, the funky fashion Bratz dolls have been a huge hit with the very audience Upper Deck is targeting with its Bratz CCG. The question is, 'Will Bratz doll collectors become Bratz CCG players?' Upper Deck will find out, beginning in April, when it releases the two-player Bratz Fashion Party Fever Game Starter Sets and the Girlz Nite Out Fashion Pack Set 6-card boosters.
Spider-Man 2 Trading Cards
Upper Deck will also be producing trading cards based on the Spider-Man sequel, which opens July 2. Although many pop culture retailers have gotten away from carrying non-sports, entertainment-based trading cards, those who do report solid success in interviews with ICv2. What properties will be bigger than Spider-Man in pop culture stores this summer? You can bet there won't be many.
Several of Upper Decks major 2004 initiatives were announced previously (see 'Upper Deck to Release DC Comics CCG,' and 'Upper Deck Unleashes TMNT CCG'), while the Upper Deck Marvel CCG, which was originally scheduled for 2003 was bumped into late March (see 'Upper Deck Delays Marvel CCG Until Spring').