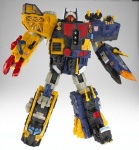 Hasbro's 2004 toy line contains a mixture of retro revivals and brand new media-driven properties. The G.I. Joe line is typical in that it includes classic G.I. Joe Fortieth Anniversary figures formed from the same molds as the originals, as well as a new line of Valor vs. Venom figures, which not only talk, but also move their facial features while shouting out commands. The Valor vs. Venom figures are also tied in to a direct to video computer animated G.I. Joe cartoon, which will debut this fall.
Hasbro's other major in-house brand, the Transformers, demonstrates a similar mixture of the ancient and the modern. In addition to a Twentieth Anniversary Optimus Prime, which is virtually identical to its 1984 die cast predecessor, Hasbro is also producing a mammoth 16-inch Omega Supreme figure from the new Transformers Energon anime, which recently debuted on the Cartoon Network and inspired the new Energon comic series from Dreamwave. The Omega Supreme figure is actually two vehicles, an aircraft carrier and a battle train, which combine into one action-packed giant capable of taking on the enormous (and evil) Unicron.
Hasbro's retro trend is also evident in its Star Wars Original Trilogy Collection, whose release will coincide with the appearance of the original trilogy on DVD (see 'Star Wars Trilogy Out on DVD in September'). While the new Hasbro Star Wars figures will return in the classic black-and-silver retro packaging, the actual figures themselves will be modern, highly-articulated versions of the (in comparison) somewhat clunky original toys. Hasbro is also releasing the first new version of the Millennium Falcon spaceship since 1996.
Hasbro also has some totally new properties for 2004, including one that is about as close to a surefire hit as you can get -- Pixar's The Incredibles. Sure to be all over the mass market because of Pixar's sterling record (Toy Story, Finding Nemo, etc.), The Incredibles should still be of interest to pop culture retailers since Pixar's new film is all about superheroes.
The Transformers aren't Hasbro's only property with strong anime ties. One of Hasbro's best-selling brands over the past few years is Beyblade. Hasbro has sold over fifteen million hi-tech Beyblade tops in the U.S. alone. This year Hasbro introduces a new turbo winder and clutch mechanism, which makes the tops perform even better -- and which is also featured in the second Beyblade anime series, Beyblade G-Revolution, which is due to debut this coming fall on the ABC Family cable channel.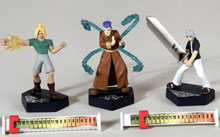 TokyoPop's Rave Master anime series will also debut in the U.S. in 2004 (on the Cartoon Network) and Hasbro has the master toy license for this potentially huge brand. Hasbro will debut its Rave Master toys in 2004 with a series of customizable action figures, as well as the RaveQuest Game, which combines mini-action figures, cards, and dice in starters and boosters in a game that mimics the Rave Master anime and manga series' quest for the all-important Rave Stones.
In addition to Rave Master, Hasbro also has another anime/CCG property with major potential--Duel Masters. Having replaced Yu-Gi-Oh at the top of the charts Duel Masters is currently the number one toy brand in Japan, and Hasbro has a line of Duel Master figures ready for 2004, although the major action on this property will probably start with the CCG, which WotC is releasing in March.