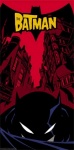 The WB Network has announced the makeup of its highly rated Kids' WB Saturday morning and weekday afternoon animated blocks for the new TV season starting next fall. The Kids' WB also announced orders for additional episodes of a number of series including Pokemon, Yu-Gi-Oh, Xiaolin Showdown, Mucha Lucha, Jackie Chan Adventures, MegaMan NT Warrior, Astro Boy, and What's New Scooby-Doo.
Although the Saturday lineup announced for fall is made up entirely of animated series, the network will experiment with two live-action series, Gagsters and Zolar, during the summer. For the fall The Batman, the new animated series based on the DC Comic character (see 'A New Animated Series for the WB'), is the lead dog in the prime position to drive ratings. The only other new animated series announced for the fall was Da Boom Crew, a sci-fi adventure series with a distinct hip hop flavor. Here's the fall schedule for Saturdays (all times Eastern):
8:00 AM Jackie Chan Adventures
8:30 AM Xiaolin Showdown
9:00 AM Mucha Lucha
9:30 AM Da Boom Crew
10:00 AM Pokemon
10:30 AM The Batman
11:00 AM Yu-Gi-Oh
11:30 AM Teen Titans
Series such as MegaMan NT Warrior, Astro Boy and Scooby-Doo will join the Saturday morning schedule at various points during the year. The new Astro Boy series will return to WB Saturday morning lineup in April, and will also appear on the Cartoon Network on Monday March 5 at 5 pm. The Kids WB weekday schedule announced for fall includes Mucha Lucha, Jackie Chan Adventures, Pokemon, and Yu-Gi-Oh.