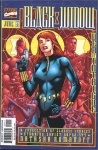 Lions Gate Entertainment and Marvel Enterprises announced on Thursday that Lions Gate has been granted licenses to develop, produce, and distribute films based on the Marvel Comics characters Iron Fist, Black Widow and the Punisher. The agreement expands Marvel's previous relationship with Artisan Entertainment, which was acquired by Lions Gate and which produced the Punisher film, which is set to debut on April 16. Acting under the new agreement Lions Gate has already started work on the Punisher 2, making the Punisher the fifth Marvel film property to have spawned a sequel.
Marvel's arrangement with Lion Gates represents a much better deal for the publisher-turned-licensing house than its precious arrangement with Artisan. Under the new agreement Lions Gate will pay for the entire cost of the films announced (estimated at $30 to $50 per movie) and will share 'equally in certain revenues derived from the properties.' Depending on the nature of what exactly those 'certain revenues' are, this appears to be a very good deal for Marvel, but even better is the fact that, 'Marvel will be handling all merchandising in connection with the film.' Marvel has had to share merchandise licensing on its first wave of hit films (X-Men, Spider-Man, Hulk) and considerable friction has resulted (see 'Sony Schools Marvel in Hollywood Accounting').
Although Lions Gate is reportedly starting on the development of the Punisher 2, no dates or production notes were provided for either Iron Fist or Black Widow. Iron Fist had been under development with Artisan but the licensing agreement expired before the film was made. Marvel's Avi Arad has mentioned that the Iron Fist film would be ready by 2006 (see 'More Marvel Movie News'), which certainly appears possible under the new agreement. Black Widow (aka 'Natasha Romanov') is a sometime member of the Avengers, but hasn't been mentioned much as movie fodder before this latest announcement. Black Widow and Iron First are exactly the sort of second tier Marvel characters that will have to develop into Marvel movie franchises if the company is to break out beyond its handful of top titles (X-Men, Spider-Man, Hulk, and possibly FF, and Captain America) and meet its ambitious goal of '15 James Bond-type properties at any given time' (see 'Marvel Wants 15 Movie Franchises').