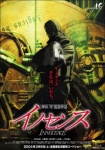 Ghost in the Shell 2: Innocence has been selected as one of eighteen films (out of 1300 submitted) to compete for the prestigious Palme d'Or award at the Cannes International Film Festival in May. The award is the highest given each year by this most important international film festival. This is the first time that an anime film has been nominated, and only the sixth time in the history of the award that an animated film has been chosen to compete. The others are Dumbo, Peter Pan, Fantastic Planet, and Shrek I and II.
Director (and writer) Mamoru Oshii said of the nomination, 'I am proud to be in the company of all the nominees. The inclusion of Ghost in the Shell 2: Innocence is further recognition of Japanese animation-anime as an important movie genre, standing alongside all other genres.'
Dreamworks plans a U.S. theatrical release for the film this fall (see 'Ghost in the Shell 2: Innocence Gets U.S. Theatrical Release in 04').