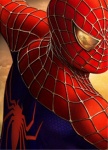 As usual, Marvel's Man in Hollywood, Avi Arad, provided an overview of Marvel's many Hollywood projects during Tuesday's conference call discussing Marvel's performance in Q1 2004. Here's a brief rundown of some of his comments:
The Punisher
Arad appeared pleased that The Punisher, the first of a series of Marvel-based films from Lions Gate, had earned some $30 million at the box office, though he did seem upset that Miramax had opened Kill Bill 2 on the same weekend The Punisher debuted. According to Arad, absent Kill Bill 2's simultaneous debut, The Punisher would have been the box office champ during its first weekend. Arad said that this was an unusually busy April, with 20 major motion pictures debuting -- and the fact that many of them had 'revenge' as the primary plot motivator (like The Punisher) certainly hurt.
Still Arad predicts that with foreign box office and DVD revenues, The Punisher will turn a solid profit -- and Marvel's deal with Lions Gate allows it to gain a solid share of the film's actual profits (though Marvel won't be realizing any substantial amounts until this time next year after the film has been released on DVD). The bottom line is that Marvel and Lions Gate (for which The Punisher provided the studio's biggest opening ever) were happy enough with the performance of The Punisher to greenlight a sequel, which is currently slated for a quick release in the fall of 2005.
Spider-Man 2
Arad was glowing in his estimation of Spider-Man 2, which he claimed was 'twice as good as the first one.' Sony, according to Arad, 'is doing a fantastic job promoting the film,' with a two-and-one-half minute spot on The Apprentice and a full 60-second ad on the final episode of Friends, which is sure to be one of the most watched programs of the year. Marvel and Sony also have a major promotional partnership for Spider-Man 2 with Burger King, which dwarfs any of the marketing efforts for the original Spider-Man film. According to Arad, Sony is promoting the film to all demographic groups including women and girls, who formed a major component of the original film's audience. Arad also mentioned that Spider-Man 3 was a definite 'go' with all the principals including Tobey Maguire, Kirsten Dunst, and Sam Raimi on board for the third film in the series, which is already set for a May 4, 2007 debut.
Blade: Trinity & Man-Thing
In order to avoid a Punisher-like logjam of titles on its original debut date of August 13, the opening of Blade: Trinity has been moved to December 10, when there will presumably be less competition. Marvel's other 2004 release, Man-Thing, has been completed, but Arad put its supposed October 22 debut in some doubt by indicating that Marvel and Lions Gate would look at the film and decide exactly how to proceed. Stay tuned.
2005
The first Marvel-based release scheduled for 2005, Elektra has just started shooting and Arad indicated that the film, which stars the increasingly bankable Jennifer Garner, would open on President's Day weekend (Feb. 18, 2005). Arad also indicated that Marvel's two other major releases for 2005, Fantastic Four and Iron Man were on track respectively for their July and November debuts. As previously mentioned, The Punisher 2 is currently slated for a fall 2005 release.
2006
X-Men 3 still anchors the 2006 schedule of Marvel-based films with a firm May 3 release date. Black Widow (see 'Black Widow Gets Director') is now a part of the 2006 schedule along with Namor, Ghost Rider, The Hulk 2 and Deathlok.
2007
With the exception of Spider-Man 3, 2007's lineup of Marvel-based films is even sketchier, with Black Panther, Captain America, Dr. Strange, Iron Fist, Nick Fury, and Thor all listed as possibilities.