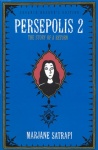 Two major original graphic novel releases from mainstream book houses are due for release this summer. Both represent major sales opportunities.
Crown Publishing, a division of Random House, will be releasing Birth of a Nation July 24th in hardcover for $25. This original graphic novel will be co-written by Boondocks creator Aaron McGruder and director Reginald Hudlin (Ladies Man, Bernie Mac Show), with color art by Kyle Baker, who's done seven graphic novels and various other comic gigs, as well as numerous cartoons for major magazines and animation work.
Birth of a Nation is the story of the secession of East St. Louis from the U.S. in frustration over the disenfranchisement of its voters in a disputed election, the creation of the Republic of Blackland (with an anthem sung to the tune of the theme from Good Times), and the surrounding events.
The primary sales driver for Birth of a Nation will be the involvement of McGruder, who's developed a huge following for Boondocks in its daily appearances in over 300 newspapers nationwide and in trade paperback collections (see 'Strip Reprints Dominate Bookstore Sales'). Boondocks is also headed for TV (see 'Sony Options Boondocks').
The book is being promoted by a major national publicity campaign, a radio campaign, print ads, and a major online promotion.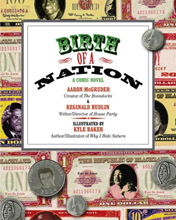 Pantheon will release Persepolis 2, the sequel to the hugely successful Persepolis 1 (see 'Persepolis, the Stealth Hit') on August 31st in hardcover for $17.95. Persepolis 1 was the story of writer/artist Marjane Satrapi's childhood in Iran during the Islamic revolution and the war with Iraq. Persepolis 2 picks up where the first volume left off, with Satrapi leaving Iran for Europe for a time, then returning to her homeland.
The first volume of Persepolis was released to great reviews, including a rave in the New York Times Review of Books (see 'Persepolis Graphic Novel Reviewed in New York Times'). This is a great property for introducing new readers to the graphic novel medium, and the second volume will have the benefit of additional publicity and reviews.
The first volume of Persepolis is being released in paperback for the first time in June.