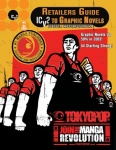 The U.S. and Canadian market for graphic novels grew approximately 50% last year, to around $165 million at retail, according to a new report released by ICv2. The report appeared in the new issue of the ICv2 Retailers Guide to Graphic Novels, released at the Book Expo America show here today.
Almost 2/3 of the 2003 sales came in outlets other than comic stores, primarily bookstores, according to the report. Until 2002, most graphic novel sales were made through comic stores.
All three of the categories ICv2 tracks -- manga, traditional American comics, and 'fiction and reality,' or alternative comics -- were up in 2003 compared to the previous year, with manga the fastest-growing part of the graphic novel business.