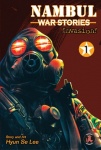 A Paid Advertisement. CPM Manga is pleased to announce the release of their latest manhwa title - Nambul: War Stories Vol. 1: Invasion!
The clouds of war are growing thicker. As the second Middle Eastern war drives the world economy toward another crisis, Japan decides to invade Indonesia in search of a new source of oil. Forces are being deployed, and secret alliances are being made. Worst of all, Hesung, the leader of the Korean-Japanese teenage mob ('Korean Dogs') gets caught on camera as he murders a Yakuza boss on the streets on Tokyo. Now, with the evidence of his act of violence captured on tape, his life is about to change forever.
Story and art by Hyun se Lee, Korea's most renowned manhwa creator.
Ships on 7/1, with a street date of 7/7.
Original Manhwa: Korean left-to-right format book.
Rating: 16 and up.
Digest size: 5' x 7.375'.
Black & White
312 pages
SRP: $9.99
UPC Code: 7-19987-00656-0-00111
ISBN: : 1-58664-917-5
Bookland EAN: 978158664917350999
Catalog #: CMX 65601G
For more information check out CPM Manga's electronic press kit at:
http://www.centralparkmedia.com