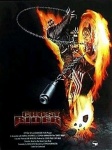 The British website Empire On Line is reporting that Oscar-winning actor Nicholas Cage will star as Johnny Blaze in a movie version of the Ghost Rider comic. The film will be directed by Steven Norrington, who brought Marvel's Blade to the big screen. Empire quotes Jon Voight, one of the producers of the Ghost Rider film, confirming that the film is just about ready to go: 'It's very exciting -- we've got the script and Nic Cage is going to do it. It's going to be quite terrific.' Voight, who recently acted opposite his daughter Angelina Jolie in Tomb Raider, told Empire that he may act in the Ghost Rider film as well.
Cage's attachment to the Ghost Rider project, if the Empire story is correct, makes it very likely that the film will be made, giving Marvel another big screen project that should actually debut in the next two years. Currently Guillermo del Toro is wrapping up shooting on Blade 2, while the big-budget Spider-Man film with Toby Maguire is shooting now with a release schedule for early next summer (see 'The Mummy Returns Boffo'). First quarter will see the start of shooting on the second X-Men film, which is set to debut during the winter holidays of 2002. In addition to all these sure things, numerous other Marvel projects are in various stages of development including the Incredible Hulk (see 'Crouching Behemoth, Hidden Hero'), the Fantastic Four, Dr. Strange, Cloak and Dagger (see 'Dimension to Develop Cloak...') Dazzler, and Submariner (see 'Movie News and Notes') to name a few.
All this means that unless current trends are reversed, films based on Marvel comic heroes will be as prevalent in the next few years as teenage gross-out comedies.

Marvel has overcome a legacy of poor dealings with Hollywood that characterized the Perelman era and before, when deals were made that resulted in immediate short term gains but often ended up in lengthy litigious disputes over who actually had the screen rights, or -- even worse -- in laughably bad films like the Roger Corman-produced Fantastic Four.