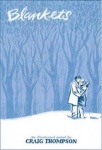 Drawn & Quarterly topped all publishers by snaring five Harvey Awards, which are voted on solely by comics industry professionals and creators, at the MoCCA Arts Festival held last Saturday in New York City. Chester Brown was responsible for two of D&Q's Harveys, winning 'Best Writer' and 'Best Graphic Album -- Previously Published Work for his critically acclaimed graphic novel based on the life of Canadian folk hero, Louis Riel. Chris Ware also brought in two Harveys , 'Best Colorist' and 'Special Award for Excellence in Publication,' for his Acme Novelty Datebook; while Drawn & Quarterly publisher Chris Oliveros garnered 'Best Anthology' for Drawn & Quarterly #5.
Fantagraphics won four Harveys including 'Best Single Issue' for Love and Rockets #9, 'Best Inker' for Charles Burns' work on Black Hole, 'Best Domestic Reprint Project' for Krazy And Ignatz, and 'Best Cover Artist,' which Charles Burns also won for his work on Black Hole.
DC Comics won three awards including 'Best New Series' (Plastic Man by Kyle Baker), 'Best Continuing Series' (Alan Moore & Kevin O'Neill's League of Extraordinary Gentlemen Vol.#2), and 'Best Single Story' (Gotham Central #6-10 by Greg Rucka and Michael Lark).
The top individual winner was Craig Thompson, who won 'Best Artist,' 'Best Cartoonist,' and 'Best Graphic Album of Original Work' for his mammoth bestseller, Blankets, published by Top Shelf. Tony Millionaire won 'Special Award for Humor in Comics' (for Sock Monkey, published by Dark Horse), and Best Syndicated Strip (for Makkies).
Other key Harvey Awards include: 'Best American Edition of Foreign Material' (Persepolis, Pantheon Books); 'Best New Talent' (Derek Kirk Kim published by Alternative Comics); and 'Best Biographical, Historical or Journalistic Presentation' (Comic Art Magazine).