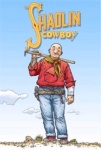 Larry and Andy Wachowski, the creators of the Matrix Trilogy, have teamed up with artists Steve Skroce and Geoff Darrow and editor Spencer Lamm to form Burlyman Entertainment, a new comic book publisher which will issue its first two books, Doc Frankenstein and Shaolin Cowboy, late this year. The titles will be bimonthly, with the first issue of Doc Frankenstein coming out in November and Shaolin Cowboy in December.
The Burlyman crew got plenty of comic book publishing experience with The Matrix Comics trade paperback (see 'The Matrix Comics in October'), which was published under the Red Pill Entertainment banner.
The formation of Burlyman Entertainment indicates that the Wachowskis, who worked with Lamm at Marvel back in the 1990s on Ectokid, are serious about comics. They are very involved in both Burlyman projects, actually co-plotting and scripting Doc Frankenstein and writing introductions for Shaolin Cowboy. Darrow, Skroce, and Lamm all worked with the Wachowskis on the Matrix films, and speaking with Lamm it appears that this is a tight knit group interested in producing high quality comics, but not necessarily keen to launch a host of new titles in some vain attempt to grab market share. They are publishing these books themselves because they believe in them and they want to control all aspects of production. The 32-page comics will be printed on heavy paper with high quality production values that will more than justify their $3.50 cover price. After six issues come out, the comics will be collected in trade paperback editions.
Shaolin Cowboy represents Geoff Darrow's return to comics, and the samples of the art we've seen demonstrate that he has lost none of his eye for detail and complex compositions. One of the most highly respected comic book artists in the world, Darrow has been working on Shaolin Cowboy for years -- and this post-apocalyptic tale should find favor with comic connoisseurs around the globe.
In contrast to the surreal Shaolin Cowboy, Doc Frankenstein is more satirical and political with plenty of parallels to what is happening in our world today. Retailers can check out both titles via an eight-page poster preview, which will be inserted in the retailer packs sent out by Diamond with the August issue of Previews and which will also be available at the San Diego ComicCon.