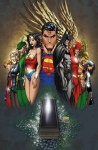 In May three titles topped 175K in sales while in June no title even made it within sniffing distance of 175K. Seven of the top ten titles in June actually showed declines in sales compared with previous months, but June's dollar total up substantially from May (and from June of 2003). The $3.95 price tag on Identity Crisis #1 helped and the Ultimate Spider-Man titles and Amazing Spider-Man #509 registered solid gains (a certain movie can take some of the credit), but solid performances from the middle tier of comic titles kept June numbers rising.
DC took the top two spots with Identity Crisis #1 and Superman #206, but Marvel took the next 14 slots and 24 out of the top 30. Seventeen of the top 25 titles declined and only six scored gains.
Graphic novel sales declined slightly from May's totals, but still represented a gain versus June of 2003. With the debut of Spider-Man 2 in the offing, Marvel took the top two spots with Ultimate Spider-Man Vol. #9 and Essential Spider-Man Vol. 6 with the Spider-Man 2 movie trade grabbing the seventh spot. Dark Horse, Gemstone, and DC had two titles each in the top 10, while Viz grabbed the last spot. Dark Horse's Hellsing 3, which recently topped the BookScan list of graphic novel sales in bookstores, was the highest rated manga title at #5. There were two manga titles in the top 10.
The top 25 comics with our estimates of the number sold by Diamond to North American comic stores are as follow:
163,111 Identity Crisis #1 (of 7)
162,095 Superman #206
133,784 Astonishing X-Men #2
104,789 Ultimate Spider-Man #60
101,159 Ultimate Spider-Man #61
100,972 Ultimate Fantastic Four #6
99,485 Ultimate Fantastic Four #7
98,660 Uncanny X-Men #445
96,759 X-Men #158
96,694 Ultimate Fantastic Four #8
95,254 Ultimate X-Men #47
94,238 Ultimate X-Men #48
88,289 Amazing Spider-Man #509
83,947 Wolverine End #4 (of 6)
82,715 Marvel Knights: Spider-Man #3
82,268 Amazing Spider-Man #508
75,434 JLA #100
72,020 Batman #629
67,519 Wolverine #16
66,424 Teen Titans #12
60,468 Amazing Fantasy #1
59,791 Excalibur #2
58,855 New X-Men #2
57,083 Avengers #84
53,770

Daredevil #61
We are estimating actual sales by Diamond U.S. (primarily to North American comic stores) rather than pre-orders (as we did for the past several years) because Diamond recently changed its reporting and began basing its indexes on actual sales (see 'ICv2 Kicks Off New Top 300 Reporting').

We use those indexes and publisher sales data to estimate a sales number for Batman (the anchor title diamond uses in its calculations), and use that number and the indexes to estimate Diamond's sales on the remaining titles. We can check the accuracy of our numbers by comparing the Batman number that we calculate using multiple data points; our numbers for Batman are within 1/10 of 1% of each other, ensuring a high degree of accurcy.
Because of that change, we will not be able to do year over year comparisons until February of 2004, but in general, it's an improvement to have actual numbers to work with rather than preorders, which have significant differences from sales.