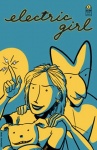 Ait/PlanetLar publisher Larry Young told ICv2 at Comic-Con International: San Diego that Electric Girl, by creator Michael Brennan, is being developed by Cartoon Network to become an animated television series. Adam Beechen is currently working on the series 'bible,' with the number of episodes still to be determined.
The first nine issues of Electric Girl were originally self-published by Brennan under the Mighty Gremlin company name, with the tenth issue published by Ait/PlanetLar. The first eight issues have been issued in two trade volumes by Ait/PlanetLar, with issues nine and ten to be reprinted, along with equally as much new material in the third trade volume, due in the spring of 2005.
Young pointed out that Electric Girl is the best-selling title for his company, which currently has 50 books in its line-up. The title sells ten times as many copies to the book trade as in the direct market, which indicates there may be a missed opportunity there for increased sales for direct market retailers.
Talking to Young, who describes himself as 'the biggest comics fan in the world,' reinforces that he is very serious about living up to his company slogan, 'Making comics better.'
He also informed ICv2 that there are six Ait/PlanetLar titles currently in active development for live action feature films. The six are Astronauts in Trouble, Demo, The Couriers, Last of the Independents, Channel Zero and Codeflesh.