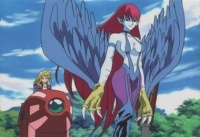 More details have become available on the uncut versions of the Yu-Gi- Oh! and Shaman King DVDs due out this fall from 4 Kids via FUNimation (see 'Uncut Yu Gi Oh and Shaman King'). Two volumes of each title, each with three episodes, will be released on October 19th. The bowdlerized versions, which were sanitized for American TV and DVD release, had purged all religious symbols, including crosses, pentagrams, and stars of David; toned down or eliminated depictions of violence such as the slicing of monsters, firing of weapons, and showing of blood; and reduced cleavage, lengthened skirts, and clothing added to reduce sexual content.
Not only will the new versions replace these previously expurgated elements, they will also feature newly recorded English language tracks that will be much closer to the original Japanese script.
MSRP will be $19.98.