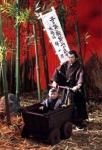 Dark Horse Comics announced that it has secured American and European distribution rights to two new high-end collectible figures based on characters from the highly popular Lone Wolf & Cub manga series (see 'Dark Horse Retro Manga Boffo'). One features the Lone Wolf himself--Ogami Itto--and his 'cub' Diagoro, who comes in a highly detailed armored 'babycart.' Accessories include a cloth banner with authentic calligraphy, cloth and leather costume accessories (sandals, hat, kimono, etc.), and an accurate selection of Ogami's swords and other samurai weapons. The second figure is Yagyu, Ogami's chief adversary, who comes with his trademark cane, sandals, eye patch, and an assortment of detailed weaponry. Both Ogami and Yagyu are fully clothed in elaborate cloth costumes that are exactingly detailed and handmade for each figure. From the intricate folds of the kimonos to the loincloths underneath, these miniature costumes are impeccably and realistically recreated to accurately reflect the samurai clothing of feudal Japan.
Only 500 of these elaborate twelve-inch (1/6 scale) figures will be produced for worldwide distribution, and Dark Horse has been awarded approximately 140 of each of these to sell to Europe and America. The first two hundred retailers who order these highly detailed figures will receive as a bonus, a special foil-stamped hardcover edition of the first volume of Lone Wolf & Cub, signed by Kazuo Koike, the sole remaining creator of the series. The retail for these superbly crafted, highly detailed figures has not yet been finalized, but it is likely to be in the $300 to $400 range.
Lone Wolf & Cub
has become a bona fide hit since Dark Horse reintroduced the series in trade paperback form last year.

The first volume in the series has sold over 30,000 copies, and the Lone Wolf & Cub books as a series are now selling better than the Sandman trades on an annual basis.

While the high end Lone Wolf & Cub figures may not be right for every pop culture stores, most stores can (and do) sell the snot out of the Lone Wolf & Cub trade paperbacks.