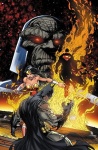 Comic piece sales dropped almost across the board in July vs. the previous issues. Only two titles in the top 25 comics, Avengers #500 and Spectacular Spider-Man #17, went up; sales on all the rest of non-#1s in the top 25 comics went down. Sales on the #1 title for the month, 143,712 on Superman/Batman #11, were the lowest for a #1 title since February.
The bottom of the Top 300 was also lower. Sales on the bottom title on the Top 300 list in July were also down substantially (from over 1300 to around 1000) from the bottom title in June.
DC had an unusually good month, with the top three books (Superman/Batman #11, Superman #207, and Identity Crisis #2) and eight of the top 25.
In graphic novels, Dark Horse had the top slot and three of the top ten; DC had four of the top ten, Marvel two, and Wizard one. Sales on the Dark Horse Star Wars Clone Wars TP, 9,463, topped the charts, but DC's Batman Hush Vol. 1 sold almost as many at almost twice the cover price.
The top 25 comics, with our estimates of the sales to comic stores by Diamond Comic Distributors during July were as follow:
143,712 Superman/Batman #11
138,984 Superman
129,852 Identity Crisis #2
129,362 Astonishing X-Men #3
105,617 Avengers #500
98,963 Ultimate Spider-Man #62
96,961 Uncanny X-Men #446
93,572 Ultimate X-Men #49
93,164 X-Men #159
92,923 Ultimate Fantastic Four #9
84,750 Amazing Spider-Man #510
75,508 Marvel Knights Spider-Man #4
69,026 Batman #630
66,589 Wolverine #17
65,658 Teen Titans #13
64,615 JLA #101
63,249 JLA #102
63,007 Supreme Power #11
57,740 Excalibur #3
56,795 Venom Vs. Carnage #1
55,304 New X-Men #3
53,847 Justice League Elite #3
52,936 Daredevil #62
52,004 Army of Darkness Ashes 2 Ashes #1
51,335 Spectacular Spider-Man #17
We are estimating actual sales by Diamond U.S. (primarily to North American comic stores) rather than pre-orders (as we did for the past several years) because Diamond recently changed its reporting and began basing its indexes on actual sales (see 'ICv2 Kicks Off New Top 300 Reporting'). We use those indexes and publisher sales data to estimate a sales number for Batman (the anchor title diamond uses in its calculations), and use that number and the indexes to estimate Diamond's sales on the remaining titles. We can check the accuracy of our numbers by comparing the Batman number that we calculate using multiple data points; our numbers for Batman are within 1/10 of 1% of each other, ensuring a high degree of accurcy.
Because of that change, we will not be able to do year over year comparisons until February of 2004, but in general, it's an improvement to have actual numbers to work with rather than preorders, which have significant differences from sales.