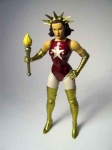 N2, the innovative company that created the highly successful toys based on The Matrix, has released photos and information on its new series of action figures based on The Tick television series, which will air this fall on the Fox Network. N2 plans to release its first assortment of Tick toys in November. Created by Ben Edlund and published by New England Comics, The Tick is a delicious and all encompassing parody of the traditional comic book superhero. The Tick was first made into an animated series, which can only be described with superlatives when placed in the context of the Saturday morning cartoon show. The new live action series features Patrick Warburton, who played the annoyingly dense David Putty on Seinfeld, as the Tick, with David Burke as the Tick's mild-mannered sidekick Arthur, Newtor Carbonell as the oily Latin lover/superhero Batmanuel, and Liz Vassey as the aggressively feminist Captain Liberty. These four core characters of the Tick saga are the basis for the first assortment of Tick toys from N2.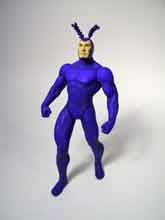 The Tick figure comes in his traditional blue costume complete with his all-important antennae. He stands an imposing 7' tall and has 5 points of articulation and ball-n-socket shoulders. Arthur stand only 6' tall but with a full set of wings and 7 points of articulation, this is one impressive moth and a really cool action figure. Batmanuel also has wings and plenty of oily charm to go along with his 7 points of articulation. Captain Liberty is a real knockout -- a full six inches of feminist fighter who comes equipped with her unquenchable torch of righteousness.
N2 is also creating a 14-inch plush talking Tick figure who is always ready to bellow forth with classic Tick-isms such as, 'I am the wild blue yonder!' 'Absadoodle' (there's a little bit of Ned Flanders in The Tick), and 'Wicked men you face The Tick.'
Due to Fox's initial positioning of the show in a highly competitive Thursday night slot (see 'Primetime Prospects Slim for Merchandise Tie-ins'), the The Tick's rating prospects are dim. However, if the series is decent, merchandise should do well in specialty stores. The animated series appealed to large number of smart kids during its run in the 90s -- and those kids now read books and comics and play games. Unless the series really takes off, which is extremely unlikely, given the show's scheduling, specialty stores won't face the kind of mass market competition on The Tick that they will face on this winter's big events like Lord of the Rings or Harry Potter.
For a look at N2's new toys based on The Fifth Element, see 'N2 Does....'