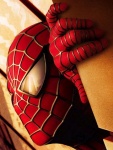 Marvel Editor-in-Chief Joe Quesada announced that Spider-Man creator Stan Lee will write the comic book adaptation of the Spider-Man movie, which is currently in production and scheduled to be released on May 2, 2002. Lee, who still writes the Spider-Man newspaper strip, has made a splash this summer with the release of his Just Imagine titles from DC Comics, in which he provides the 'Stan Lee' take on the legendary heroes of the DC Universe.
The Spider-Man movie, which features Toby McGuire and Kirsten Dunst, is one of the most eagerly awaited comic films ever.

It is the keystone in a mighty Marvel arch of films in various stages of production that also includes Blade 2, X-Men 2, Daredevil, The Incredible Hulk, The Submariner, Cloak and Dagger and host of other movies (see 'Submariner Story').

The current management and editorial team at Marvel wasn't in place in time to do a proper job of exploiting the potential of the first X-Men film, which grossed over $154 million during its initial box office run.

Marvel has another A-List project in the works with Spider-Man, and the publisher is determined to do a better job of profiting from its likely success.

Getting Stan Lee to write the comic book version is a good start.