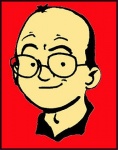 'I Think I Can Manage' is a weekly column by retailer Steven Bates, manager of Bookery Fantasy, a million dollar retail operation in Fairborn, Ohio. Bates' topic this week is making money on the biggest characters there are.
As ICv2.com reported Monday (see 'Anime, Marvel Properties in Top Ten Fictional Characters'), Forbes published its list of Top Ten Fictional Characters, including anime giants Yu-Gi-Oh! and Pokemon and Marvel cornerstones Spider-Man and X-Men (including Wolverine). Other properties on the list familiar to specialty shop operators are Lord of the Rings, Harry Potter, and Spongebob Squarepants. Near-misses and also-rans were a mix of characters like Hulk, Power Rangers, and The Simpsons, all pop culture icons with materials you should already be stocking. Star Wars languished this past year, without a major motion picture to boost sales on ancillaries, and Hello Kitty would've taken the fourth highest spot on the list, but lacked a 'narrative story' (book, movie, or videogame) to introduce it.
Spidey and Professor X's merry mutants are the two intellectual properties with the greatest impact on most of the retailers in our industry, followed closely by Yu-Gi-Oh! and Pokemon. In 'pure' gaming stores, the latter pair of Japanese imports, both with hugely successful collectable card games, might well overpower the Marvel characters. It is interesting to note, however, that these four dominate the bottom half of the list, accounting for only $4.625 billion in revenue (slightly over $6 billion if you include #7 Spongebob). Yes, these guys are phenomenal sellers, and should definitely be part of your product mix, be they comics, toys, trading cards, games, or DVDs. But who outsold all these entertainment juggernauts? Which character (or family of characters) beat out the combined might of Yu-Gi-Oh!, Pikachu, Wolverine, and the web-slinging wall-crawler? Who's the leader of the club that's made for you and me?
M-I-C (see if you can guess), K-E-Y (why? -- because he sells), M-O -- Oh, you get it. Yes, a mouse kicked everyone's tail again this year. Not only that, but the House of Mouse, the Walt Disney Company, took the #2 and #5 spots with Winnie the Pooh and Finding Nemo, respectively (and Toy Story was another 'near miss'). According to Forbes, Disney properties totaled $13.4 billion, not including Buzz Lightyear and gang; that's $1.575 billion more that the other seven properties combined.
So what does all this mean for retailers in our hobby? Simply put, unless you're carrying Disney merchandise, you're missing Willie's steamboat. Sure, major retailers, including Disney Stores themselves, are competing with you. You'll never match the buying power or sales of a Wal-Mart or Target, and I'm not suggesting you should even try. What I am saying is that Mickey, Minnie, Donald, Goofy, and Uncle $crooge should have a presence in specialty stores, especially those retailers promoting a family-friendly atmosphere. Whether it's Gemstone's excellent line of Disney comics or Upper Deck's Disney Treasures trading cards and bobble heads, Tomy's imported Magical Collection of figurines or the Disney/Squaresoft Kingdom Hearts action figures from Mirage, retailers should create a boutique or dedicate an end-cap to Walt Disney characters. Mickey, Pooh, and Nemo are timeless characters, which makes their merchandise evergreen, and they appeal to multiple generations of fans, from toddlers and 'tweeners to boomers and beyond. Of course, that includes the ever-growing and always-important female demographic, Grandmas, Moms, and those future Imagineers toiling away in their sketchbooks.
Savvy retailers stock Disney merchandise.

You may not sell $13.4 billion dollars worth of Disneyana in your shop, but you'll at least be nibbling on a piece of a very large pie.

There's nothing 'Mickey Mouse' about that.