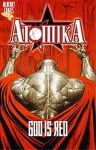 Speakeasy Comics has announced its first title, Atomika, which will ship in March (see 'Adam Fortier Announces Speakeasy Comics').

The title is created and penciled by Sal Abbinanti, inked by BUZZ, and scripted by Andrew Dabb. The first issue will feature a cover by Alex Ross.

Other popular artists are also booked for covers, including Steve Rude and Glenn Fabry.