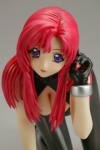 Yamato USA has announced its Late Spring 2005 releases, which include miniature collectible figures, action figures, and PVC and resin statues based on anime and videogame properties.
The Please Teacher -- Mizuho in Space Suit Resin Statue, by Toy Fujiura, will measure approximately 5.25' in length, and features the lead character from the series. It will come individually packaged in a collector box.
The Capcom Figure Collection: DarkStalkers -- Morrigan & Lilith Miniature Collectible Figures is a six-piece assortment featuring two of the characters from Capcom's DarkStalkers. Sculpted by three of the leading Japanese garage kit artists, the figures will be approximately 5' tall, packaged on blister cards.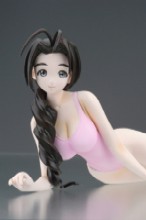 Four PVC statues featuring Love Hina characters as they appeared in the Love Hina Again OVA will each come on bases and are individually packaged in window boxes. The characters depicted are Naru, Mutsumi, Motoko, and Shinobu. The statues range from 3.25' to 8.5' high, depending on the pose.
The ROD the TV -- Maggie PVC Statue, based on the ROD the TV anime, is a 7.25' statue on a base, individually packaged in a window box. It's designed by Miki Ousaka of Cherry Blossom High.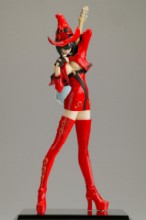 Guilty Gear Isuka-Ino PVC Statue features a character from the Guilty Gear XX arcade videogame and the Guilty Gear Isuka console game. It's designed by Kazunori Oomoto, 8.25' high, and will be packaged in a window box.
The Iron Leaguer Miniature Collectible Figures are sports robots in a super-deformed style. They're 4' high and individually blister-packed.
The Cyber Formula-Asurada GSX Vehicle
is a 1/24 scale version of the Asurada GSX from Cyber Formula.

It features a boost engine, detachable upper body, and free-rolling wheels, and will come packaged in a collector's style display case.