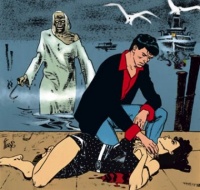 Platinum Studios is working with Relativity Management and The Shop Animation Studios to produce a CGI-feature animated film based on Italian comic property Dylan Dog. Dylan Dog: The Fourth Kingdom will be the first CGI-animated thriller.
Ian Person, who co-founded The Shop, will direct. Pearson was formerly the CEO of Mainframe Entertainment, where he worked on Barbie in the Nutcracker, Action Man, and others as creator or producer.
Dylan Dog, created by Tiziano Sclavi, has sold more than 80 million copies worldwide since its launch in 1985.