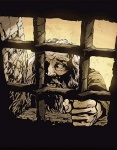 Alias Enterprises, a new San Diego-based comic book publisher founded by Brett Burner (owner of the highly successful Christian/homeschooling powerhouse, LampPost Publishing) and Mike S. Miller (veteran comic book industry artist and writer), is planning an ambitious launch of 12 full-color comic book titles in April of 2005. Most Alias comics will be 32-page standard format color books with a cover price of $2.99, but the company will also release some graphic novel collections of works originally released by other publishers.
Alias will publish comics created by a number of different independent studios including Dabel Brothers Productions, Runemaster Studios, Blue Water, and Community Comics, which accounts for the size and diversity of Alias' ambitious publishing program.
Miller, who is the company's executive director, characterized the company this way: 'If there's one thing we're about at Alias, it's variety. We're not looking to publish titles that are tied together by a particular look, feel or theme; we have titles in just about every genre imaginable, with plenty more to come down the road.'
The titles already announced by Alias run the gamut from G-rated, all-ages books like The Imaginaries to the more mature and adult-oriented Deal With the Devil and 10th Muse.
While the 'Christian-friendly' titles produced by Community Comics (David's Mighty Men) may find an outlet in the fast growing Christian bookstore market, other Alias titles feature vampires and other forms of supernatural creatures frowned upon by some fundamentalist groups.
According to the Alias Enterprises Website the first issues of four titles in the April launch, Deal With the Devil, Killer Stunts, Elsinore, and Lethal Instinct will all be available for just seventy-five cents. Given the hurdles that face new publishers entering the comic book marketplace, rolling back prices to 1985 levels may provide some of the marketing muscle to attract attention in a difficult retail environment. If Alias Enterprises can keep the studios it has lined up happy, production of its ambitious schedule shouldn't be that big of a problem -- the real difficulty in comic book publishing is in attracting the financial resources necessary to sustain an ambitious publishing program long enough for the titles to gain the support of retailers and fans who are, in the wake of the failures of so many would-be comic publishing powerhouses, by now reluctant to invest their time and interest in the productions of new comic book publishers.