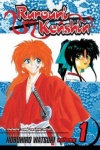 The final Bookscan reports for 2004 are in, and the year-to-date sales numbers provide some interesting information about the bestselling graphic novels in bookstores last year. Rurouni Kenshin Vol. 1, from Viz, was the top-selling graphic novel in bookstores last year (based on pieces), and the other volumes in the series all sold well too.
The #2 piece book was Tokyopop's Fruits Basket Vol. 1. Because of the difference in cover price (Tokyopop prices its manga volumes at $9.95, Viz prices its Shonen Jump titles at $7.95), Fruits Basket actually topped Rurouni Kenshin in dollars.
The top manga dollar book was actually Dark Horse's Trigun Vol. 2, which inched ahead of Fruits Basket in dollars on its lower piece sales and $14.95 cover price.
The top dollar book was Art Spiegelman's 9-11 reflection, In the Shadow of No Towers, which sold almost as many copies as Rurouni Kenshin, but at a $19.95 cover price.
The #2 dollar book on the list (although not a graphic novel) was the Complete Peanuts, Vol. 1, from Fantagraphics.
The good news that links these five titles (and the others at the top of the Bookscan graphic novel list) is that comics had another very good year in bookstores, with a wide variety of material appealing to disparate audiences.